Tawoos Oilfields Supply Company LLC (TOSCO) is the Oil & Gas sector arm of Tawoos Group. A company that goes on to extend our corporate philosophy to offer customers improved performance and innovative services and products.
The company also provides a fully-integrated service to international suppliers and contractors seeking to supply their goods and services to Oman's oil and gas-related industries.

Situated in the prime Ghala Industrial Area, TOSCO's 14000 sq. mts yard has an operating area of over 12,750 sq. mts equipped with warehouse and offices.
TOSCO's activities can be broadly categorised as:
A: Oilfield Services & Contracting
B: Products & Equipment Supplies
A. Oilfield Services & Contracting

(Quote only from) Smith International Gulf Services LLC (SIGS)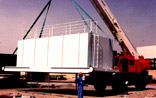 At TOSCO, we also have facilities and workshops for steel fabrication works, and specialize in grit balsting and industrial protective coating of tanks etc. We are well equipped and specialize in the fabrication of Accommodation Units, Rig Offices, Water tanks, Diesel tanks, Skids for PDO Drilling Contractors.

As part of our services, we also offer our services in the field of De-Salination Services, fully supported by our Principals, Wesco, Abudhabi. Wesco is the authorized service support company for some of the best known and largest established de-salination companies in the world. Following services in the field of De-Salination can be offered:

· Servicing and Maintenance
· Chemical supply
· Spare Parts
· Plant and Equipment Overhauls
· Membrane Testing
· Membrane Cleaning
· New Plant supply

In conjunction with our Principals, we offer various following services:

- Repair, Re-tubing and Cleaning of Heat Exchangers
- Repair and Rewinding of Electrical High Voltage, Low Voltage Certified Motors
- Repair of Electrical Transformers
- Repair of Valves for Oil and Gas Sector
- Repair and Overhaul of B.O.P.'s
- Repair and Overhaul of Turbines
- Repair and Overhaul of Oilfields Pumps
- Metallic and Ceramic Spray Coating
- Dynamic Balancing

B. Products and Equipment Supplies

TOSCO is also an active trading company and competitively supplies equipment, consumables to Oman-based energy companies, ministries and other contractors such as:

- Drilling Rockbits for Oil and Gas Sector
- Heat Exchangers for Oil and Gas Sector
- Industrial Marine Paints for Corrosion Control
- Full range of Lubricants for Auto Industry, HD Engineering/Machinaries, & Transformers
- Wellhead equipments
- Mud Pumps
- Pressure control products
- Spare Parts of Turbines
- Pumps for Oil and Gas Sector


TOSCO's main clients include Petroleum Development Oman, MB Petroleum Services, Dalma Energy & Co LLC, National Drilling Services Co LLC, P.T.T.E.P, Occidental Oman, Ministry of Defence, Ministry of Water and Electricity and others.
Principals represented in Oman

AMERON B.V. (HOLLAND)
High quality Industrial Coatings and Paints
BATIGNOLLES TECHNOLOGIES THERMIQUES, FRANCE
Heat transfer equipment, API 661, Air Coolers, funned tubes
BIRD PRECISION BELLOW, UK
Expansion Bellows
ENVIROTECH BEGEMANN, HOLLAND
All types of centrifugal pumps, Pressure testing Equipment
GULF OIL MIDDLE EAST
Full range of top quality lubricants, greases, etc.
GATE HYDRAULICS LTD. UK/USA
Hydraulic hose & Coupling products
GRAFOIL/GARLOCK, USA/UAE
Gaskets, Jointing, Packing
MOYNO OILFIELD PRODUCTS, CANADA
Downhole screw pumps
OILFIELD SUPPLY CENTER, DUBAI
Machines shop work for specialty job, Supplies of pipes, valves fittings, chrome plating, dynamic balancing , chemical cleaning and refurbishment of heat exchangers, boilers etc.
PEINIGER INTERNATIONAL LLC, GERMANY
Corrosion control and industrial coating services
SMITH INTERNATIONAL INC., USA
Rock Bits, Down Hole Tools etc.
SUFF MARINE, UK
On-Line Valve Lubrication and Sealing products and Services , Bolting, Pipeline Preparation
WESCO ABU DHABI
LV and HV Motors, Turbines, Rotating equipment, Burgmann-Sealing technology, Rolls Royce motors, generators & switchgear equipment Ebara-Cryogenic motors. Rotating equipment, valve repairs and maintenance.
Some of the major recent works carried / ongoing under TOSCO banner are:
Contracts/Jobs/Clients

1. Inspection Contracts with MIDWESCO, ODE, FORTRESS, ESSAR OIL, MB, S&L and other drilling contractors

2. Having slotting contract with PDO


Key Personnel

Contact Details
P.O. Box 1676, Muttrah 114, Sultanate of Oman
Tel: 24590385 Fax: 24591437