Gulf Oil International
A Tradition of Excellence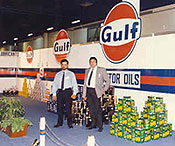 Gulf is one of the world's oldest oil companies, beginning in the USA at the turn of the century. In 1901, Gulf established the world's first oil well, spindletop, and in 1913, the first drive-in gasoline station
Commitment to excellence in customer service, product quality and leading edge technology have come to be symbolized around the world by the Gulf logo and Gulf Oil International today remains committed to building on these strengths Gulf Oil International focusses on lubricants - from base oil manufacturing and trading, to finished lubricants blending, distribution and marketing.
Today Gulf Oil International has regional offices in:
Houston, USA
Panama, Panama
Santiago, Chile
Buenos Aires, Argentina
Vienna, Austria
Dubai, U.A.E
Mumbai, India
Singapore
Hong Kong
Tokyo, Japan
Yantai, China
London, U.K.
Beirut, Lebanon
Kuwait city, Kuwait
Manama, Bahrain
Muscat, Oman
Doha, Qatar
Technology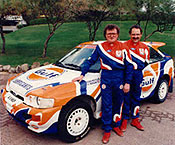 Gulf has its main Research Centre near Pittsburgh, USA. Here some of the world's best qualified and experienced lubricant technologists have at their disposal, state-of-the-art laboratory and engine test facilities. Every Gulf lubricant is tested to meet or exceed the most exacting international standards.

Gulf's world-wide team of technical representatives have the training and the experience to advise on any lubricant application using its in house research facilities and its capability to contact any of the recognized original equipment manufacturers.
Manufacturing and blending
Gulf manufactures and blends the finest lubricants world-wide.

Gulf meets the needs of every market, from the most simple to the most sophisticated. Over 300 grades of lubricants are produced to the highest standards at some of the most efficient facilities in the world, providing the assurance of unrivalled quality, reliable delivery and competitive pricing.


Base Oils
With experienced traders in Singapore, New York, Amsterdam and Madrid, supported by
in-house shipping and finance experts in Vienna, Gulf's Base oil Business Centre aimís to:
Secure a constant supply of base oils to Gulfs operating companies
Sell base oils to third parties
Reinforce the Gulf's position as a unique independent player in lubricants marketing and base oil trading.
Gulf's global coverage means timely, reliable and efficient supplies of a complete range of base oils.

Gulf's strengths are:
Term contracts with independent refiners
Capability to market specialty base oils
A truly professional trading and shipping organisation with competitive advantages.
Marketing

Marketing strategies for Gulf lubricants have been built on the 90 years' reputation of the Gulf region, and its distinctive logo. Gulf sells lubricants in all market segments (automotive, transportation, marine, industrial, construction, and agricultural) through a network of direct operations, joint venture companies, distributors and licensees.
Advertising and promotional programmes are specifically tailored for each market and country.
Motorsports in many countries endorse the quality and performance of Gulfs' products
Gulf Oil International continues the tradition of excellence even today.
Key Personnel

V K Vamadevan
Operations-in-charge
Tel: 24602760, GSM: 99347075


Contact Details
P.O. Box 1676, Muttrah 114, Sultanate of Oman
Tel: 24602760/24603543 Fax: 24607252