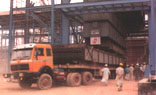 Tawoos has joined hands with Descon Engineering Ltd, based in Pakistan in a partnership to provide engineering services to Oil and Gas companies in the Sultanate of Oman.
Technical & marketing support would be provided by Descon Engineering Limited whereas the business development aspect would be handled by Tawoos Descon Engineering LLC.
DESCON is Pakistan's leading engineering services company. Now in their third decade of operation, they have successfully executed projects of national importance in the sectors of power, cement, fertilizer, oil & gas, chemical / petrochemical and environmental engineering, manufacturing, civil construction, electro-mechanical erection and maintenance.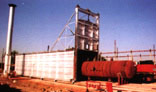 The strength is based on the resources of over 1000 professionals, including 600 engineers, an extensive range of plant and equipment and three manufacturing facilities. Descon's services span the Gulf region with offices in Abu Dhabi, joint venture in Sultanate of Oman and another joint venture with Olayan Group in Saudi Arabia where engineering, fabrication, construction and maintenance services are offered.
Stringent quality control standards and emphasis on loss prevention are distinct features at all the Descon projects and manufacturing facilities. Recognition of Descon's commitment to quality in all functions of the company business is evident in the ISO 9001 certification received in 1997. Manufacturing operations have also attained the ASME stamps A, PP, S and U.
From inception to commissioning we are equipped to undertake all phases of a project with the objective of providing quality services within the time and budgetary parameters to the satisfaction of our clients.
Descon's seven business areas are: Engineering Services, Manufacturing, Utilities & Environmental Engineering, Project & Construction services, Plant Services, Elsag Bailey Systems and Equipment & Plant.
Engineering Services
CAD-based engineering services for basic and detailed design are available in the following disciplines:
CIVIL & STRUCTURAL
Civil and structural design capabilities cover Reinforced Cement Concrete and Steel Structures for industrial plants. This expertise is applicable to:
Foundations

Industrial buildings, domes and silos

Underground services

Industrial buildings, domes and silos
MECHANICAL
Mechanical engineering services are available in the following areas:
PROCESS DESIGN: Front End Design Manual (FEDM), Process and Instrumentation Diagram (P&ID) process specifications, energy balances and process calculations.

PIPING DESIGN: Preparation of plant layouts, piping plans and section drawings, generation of isometrics and bills of materials, pipe stress analysis and supports design.

PLANT EQUIPMENT DESIGN: Pressure vessels, heat exchangers, industrial boilers, storage tanks, process related equipment and material handling systems.
ELECTRICAL AND INSTRUMENTATION
Electrical and Instrumentation design skills that extend to the following systems:
Power distribution networks, grounding and lightning protection.
Lighting
Instrumentation and controls.
MANUFACTURING
The production range of this company covers fabrication of plant equipment and structures for industrial plants and process units.
Utilities & Environmental Engineering
U&EE provides a wide range of industrial package type and bagasse fired type boilers on turnkey basis. Water & effluent treatment plants are also supplied on turnkey basis to provide potable water, boiler and industrial process water as well as treatment of industrial waster water. Plants conforming to international standards and with the latest technology are supplied in collaboration with renowned overseas companies.
Project and Construction Services
We provide complete project implementation services of:
CIVIL CONSTRUCTION
Complete range for all types of industrial projects including slipforming.
MECHANICAL ERECTION
All services required for new as well as relocated plants and revamping or expansion of existing plants. For heavy lifts, cranes and allied rigging equipment and expertise is available.
ELECTRICAL AND INSTRUMENTATION INSTALLATION
Complete installation, testing and commissioning of electrical equipment as well as instrumentation and control systems.
These core activities are supported by the following functions:
PROJECT MONITORING, ANALYSIS AND CONTROLS:
Activities and resource planning, progress monitoring, financial analysis and cost control of all phases of a project are based on management techniques such as PERT, CPM and software such as Primavera, Suretrak etc.
PROJECT SUPPORT SERVICES:
Establishes project site facilities for rapid mobilization and maintains them throughout the duration of the project. Also administers subcontracts for specialized activities.
PLANT SERVICES
Technical services for maintenance / operation oriented contracts are provided for:
TURNAROUNDS/SHUTDOWNS
Maintenance services include refurbishing of stationary and rotary equipment's predictive & preventive maintenance, overhauling & replacement of equipment and modification works.

COMMISSIONING AND START-UP
Services consists of devising a system of checklists, pre-commissioning procedures and test runs prior to start-up.

PLANT OPERATION
Expertise is provided to optimise process and production flow to maintain the capacity of the plant and quality of the product.

WAREHOUSE MANAGEMENT
Specific objectives for optimised inventory levels, material checks, scrap/sample stock and identification procedures are fulfilled by developing customised computer systems.
OUR BUSINESS SECTORS
Power
Fertilizer
Oil & Gas
Petrochemicals
Chemicals
Cement
Infrastructure
OUR SERVICES
Basic And Detailed Engineering
Equipment Manufacturing
Civil Construction
Mechanical Erection
Electrical & Instrumentation Installation
Plant Operation & Maintenance
Turnarounds & Shutdowns
Material Engineering
OUR PRODUCTS
Storage Tanks
Water Treatment Plants
Overhead Cranes
Instrument Control Panels
Welding & Other Rectifiers
Heat Exchangers
Pressure Vessels
Steel Structures
Cable Trays
Boilers
OUR RESOURCES
600 engineers and 400 other professionals
20 years of experience
Large inventory of construction equipment
Fleet of mobile cranes
Slip-form equipment for construction of silos
OUR FACILITIES
Computer -aided-design & engineering (CAD/CAE) capability
Project management and cost control expertise
Computerised manpower data bank
Technical collaboration with reputed overseas companies
Network of offices in Pakistan and the Gulf
E-mail & internet link
OUR QUALITY POLICY
We achieve customer satisfaction by:
Recognizing that quality is everyone's direct responsibility
Fully meeting all our internal and external commitments on time, every time Operating all our work places in a safe and healthy environment Continuously enhancing our skill and know how.
OUR LOSS PREVENTION POLICY
We prevent accidental losses by:
Operating all our work places in safe and healthy environment
Creating loss prevention awareness amongst all the employees through a comprehensive program, facilitated by Loss Prevention department and executed by respective site and office management.
Ensuring that each leader of an operation, whether at a site or at an office, is directly responsible for the safety of all human and other resources under his charge.
Making line managers, supervisors and lead technicians accountable for the loss prevention management effort towards elimination of causes that might lead to accidents.
OUR CORE VALUES
Professionalism, ethics and integrity
Commitment and team work
Candid and open environment
Recognition and growth of individual and respecter of human dignity
Encourage leadership, initiative and innovation
Continuous improvement in all aspects of our business service to the nation
OUR PURPOSE
To bring prosperity and well-being to our stake-holders and society at large by adding value through engineering, technology and management.
OUR VISION
To become a world-class engineering, manufacturing and construction company operating internationally.
OUR MISSION
To provide our customers with quality, cost-effective and reliable solutions as an EPC contractor at home, a general contractor abroad and a manufacturer of plant and equipment in the region.
Key Personnel
Akhtar Ali
General Manager
Tel: 24796636,
email: tdengg@omantel.net.om


Contact Details 
P.O. Box 1676, Muttrah 114, Sultanate of Oman
Tel: 24700128 Fax: 24796639